In 1953 the Library acquired from the Chicago attorney and book collector James F. Spoerri his collection of James Joyce, commencing what has proved to be a continuing interest in the literature and history of Ireland. This collection of over 900 items is unusually complete in printed material in both book and periodical form, including all first editions of Joyce's works except five minor items printed for copyright purposes which exist in only one, two, or three copies. It contains many books and pamphlets devoted entirely to the author and his works and over two hundred books and periodicals containing critical and biographical material.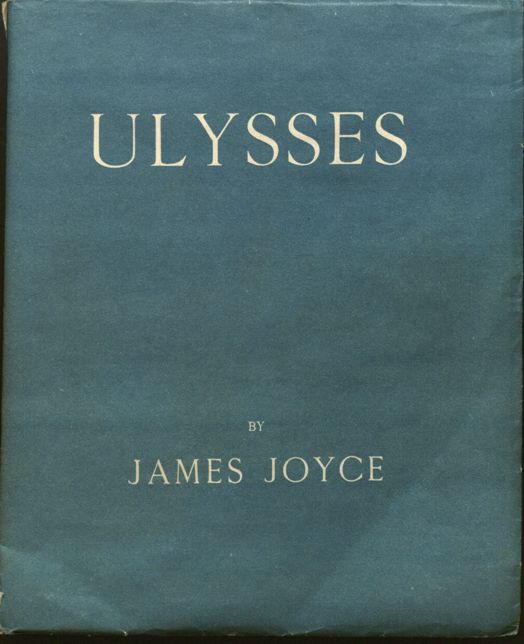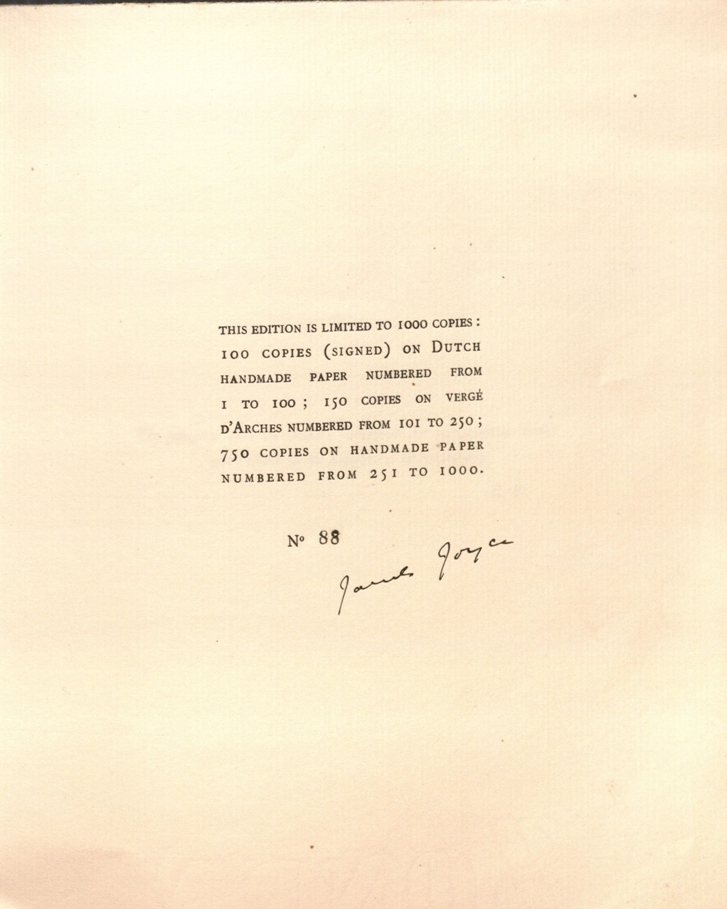 Cover and limitation page from the first edition of Ulysses by James Joyce.
Paris: Shakespeare and Company, 1922. Call number: Joyce Y115.
Particularly uncommon items in the Joyce collection are copies of the two broadsides, The Holy Office (1904 or 1905) and Gas from a Burner (1912), the latter bearing in holograph the author's story of the destruction of the first (Dublin) edition of Dubliners. Also present are all three states of the first edition of Ulysses (1922), as well as a copy of the first edition of Ulysses in French (Ulysse, 1926), signed by Stuart Gilbert, who oversaw the translation, and inscribed by Joyce to his daughter Lucia on the date of issue; this copy has the novelty of bearing the strange post-mortem bookplate of the author. There is also a copy of the elusive Pomes Penyeach (Cleveland, 1931).

SEARCH STRATEGY:
To browse the catalog records for the volumes in the James Joyce Collection, select the option "left-anchored call number" from the search settings in the KU library online catalog and enter "Joyce."

You may then sort the results by date, title, or author.

Note: There were some bibliographic errors in converting the old card catalog cards for this collection to online catalog records. We hope to correct these in the near future, but in the meantime, you may find it helpful to consult the card catalog author heading for "Joyce, James". To do so, please contact a special collections librarian.
Manuscripts:
Though the Spencer Research Library does not hold a manuscript collection for James Joyce, James F. Spoerri's Collection of James Joyce did include his own photostat copies of Joyce correspondence, including letters to his daughter Lucia, Ezra Pound, publisher Grant Richards, James Stephens, Ford Madox Ford, T. S. Eliot, and others. These are available at call number MS 134. For additional information please see the James Joyce Miscellany finding aid.