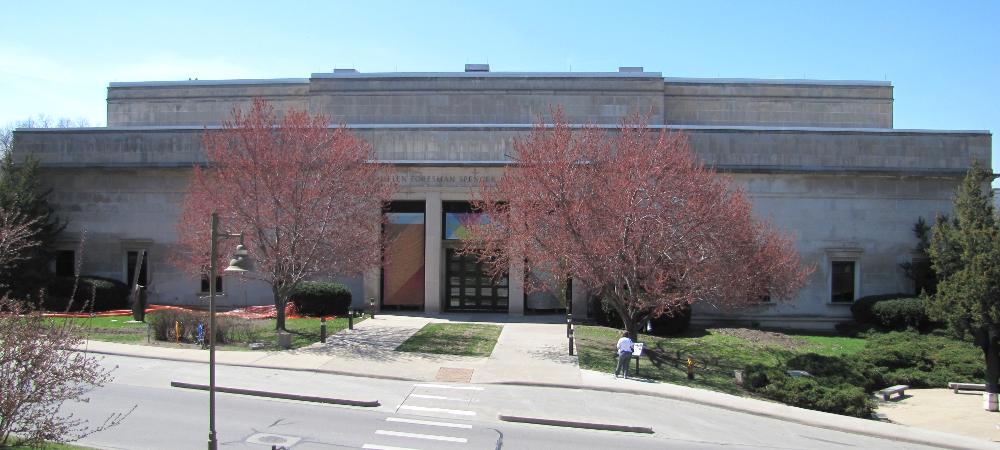 Spencer Museum of Art - Lawrence, Kansas
The Spencer Museum of Art, located on the University of Kansas campus in Lawrence, houses an internationally-known collection that is deep and diverse, currently numbering nearly 36,000 artworks and artifacts in all media. The collection spans the history of European and American art from ancient to contemporary, and includes broad and significant holdings of East Asian Art. Areas of specilization include medieval art; European and American paintings, sculpture and prints; photography; Japanese Edo-period painting and prints; 20th century Chinese painting; and KU's ethnographic collection, which includes about 10,000 Native American, African, Latin American and Australian works.
Address: 1301 Mississippi Street, Lawrence, KS 66045-7500
Hours: Monday--Closed; Tuesday-Saturday--10am-4pm except Thursday until 8pm; Sunday--Noon-4pm
Admission is Always Free
Getting Started when researching an object
Examine the work; DO NOT rely on photographs or reproductions when writing about art. Reproductions serve as useful tools but obviously black and white illustrations of a painting or even those in color can be very misleading.

Read the label carefully; some labels may simply identify the artist, title, date, media, donor, and accession number; didactic labels may provide provenance information, a condition report, and discuss the work in relationship to other works.

Analyse what you know about the work: the artist's name, the date, the medium, the stylistic period, the nationality, the subject matter.

Begin your research with that you know; if you know the artist's name, look for biographical and oeuvre information; if you know the subject or period, look for comparable work.

Examine publications from the Spencer Museum of Art, such as collection catalogs, journals, and exhibition catalogs, which may contain information on the specific work.
Art & Architecture Librarian